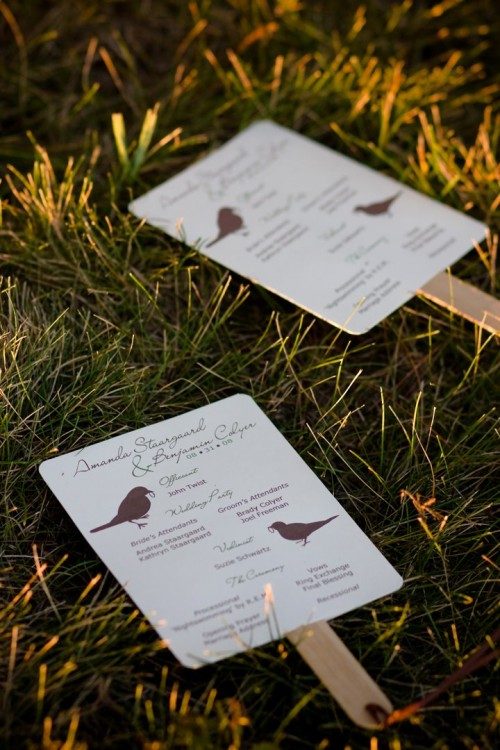 Here at Stony Point Hall, as a part of your event, we have a lush, green lot on the south end of the facility, available for any of your outdoor event needs. And we know as well as you, the Kansas weather can be a bit… erratic.
I'm sure many of you have worried about and attempted to plan for unplanned things such as excessive heat, high winds, and bugs. But never fear, thanks to the ingenuity and creative minds of this DIY generation, there have been many advancements in this area.
Here are ten ways you can avoid disaster in your outdoor ceremony.
1. Make Your Programs Into Fans
Since outdoor weddings do not come complete with central air, there is often a need for a more primitive form of cooling. This neat DIY tutorial is available over at Intimate Weddings.
2. If You Are Wearing Heels, Invest in Some Heel Covers
Have you ever been walking around at an outdoor wedding and before you know it, you are on your back because your heel sank into the grass. Thankfully, the fine folks at The Solemates are here to make sure that never happens again.

3. Make Water Available to Your Guests
The last thing you need in the middle of your ceremony is a case of heat stroke. If you know it is going to be a scorcher, it would be smart to provide water for your guests. Projects like the one above, making personalized labels, can add a nice look as opposed to making a Costco run.
4. Bug
Repellent
When you're outside, you are on their turf. Providing your guests with a little repellent can go a long way.
5. Sunglasses as Party Favors

southboundbride.com
Anyone facing west during your ceremony will thank you for this.
6. Provide Blankets if It's Chilly

toast-events.com
If your event is in the late spring or early fall, these may come in handy.
7. Sew Tiny Weights Into the Hem of Your Dress

marthastewartweddings.com
Unless you are wanting to give the other guests a show, this would definitely come in handy on a windy day.
Don't forget to follow Stony Point Hall