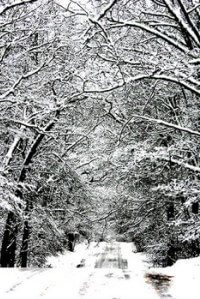 The first snow has fallen in Kansas!
Okay, for Stony Point Hall and the much of the surrounding areas, it was nothing more than a light flurry or dusting, but regardless, the greens, reds, browns, and oranges have given way to white. It happens every year, but somehow we're never quite ready for it.
Winter is not the traditional season for weddings, but hey, not everyone is traditional! But planning for a winter wedding, like any other season, has it's drawbacks. Spring brings the rain, summer brings the blistering heat, and fall brings the… well… I guess it brings the… beautiful sight of cascading, multi-colored leaves? Okay, so maybe fall doesn't have as my drawbacks, but regardless of season, there is always the chance of unforeseen complications… especially for those who want an outdoor ceremony.
Outdoor ceremonies can be a volatile undertaking. I wrote back in July about things to have on hand for those summer ceremonies, and like summer, there are certain precautions you can take for winter ceremonies, as well. Take a look!
It's Cold Outside!
Are you a trooper? Do you insist on still having your ceremony outdoors when it's an unexpected 25-degrees? Well, don't expect your guests to be as gung ho about sitting on a cold chair for 30 minutes as you.
If you choose to rent a tent, which is more often than not the case when you're dealing with Kansas winters, there are a wide variety of ways to heat your tent, even if it doesn't have flaps around the outside. The company who you rented your tent from will more than likely have these heating systems available. But if you decide to go sans tent, area rental companies will more than likely have some propane-powered, outdoor patio heaters, which typically have a 6-10 foot radius. Don't gamble with your guests comfort. The mob is fickle.
The Sky is Falling!
Rain, snow, sleet, ice–these are all in play during the winter. So how do you combat these things?
Well, tents are nice. But what if that's not in your budget? Precipitation brings its own unique complications. It's not oppressive like the summer heat, but clothes can get wet, and hair and makeup can get messed up. It's not pretty. And to be honest, there's really no Pinterest-friendly DIY solution to this. You know what this situation calls for? A good, old-fashioned, disposable poncho!
As long as you don't mind looking into a sea of 150 people that look like this, and you have your heart set on an outdoor ceremony, rain or shine, you can always go to places like Uline or Amazon and buy up a bunch of these ponchos. Be warned, however, in my cursory research on the pricing of disposable ponchos, you're going to be paying about one dollar per poncho.
You know what you can do to make sure you don't have to endure the elements?
Take the party inside!
We understand that things don't always go as planned, which is why we allow our customers to create their own reception layout, which is the most fool-proof option available to you, at Stony Point Hall. If there a chance of inclement weather around the time of your wedding, make sure to design your layout to accommodate your guests, with an aisle. If you were set on an outdoor ceremony, we realize it's not idea, but it's better than 150 wet, grumpy guests.
Hey look, we even have an indoor arbor available for rent!