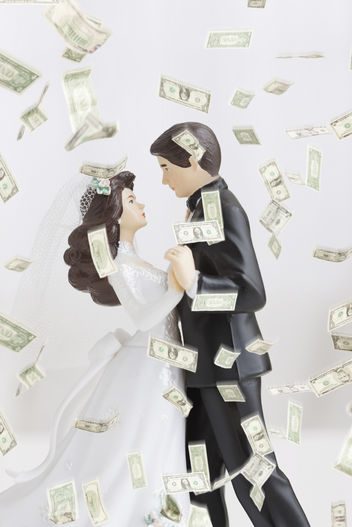 Here at Stony Point Hall, we pride ourselves on attracting a wide variety of customers.
Since 2007, we have hosted everything from shoestring weddings to lavish events, and traditional affairs to non-traditional brouhahas. (This is not to say one is better than the other, and to be honest, a majority of our events fall somewhere in the middle.) And one thing that is always always a concern, no matter how many zeros are in your wedding budget, is what costs the bride and groom should shoulder for their wedding party.
Wedding Attire
These days, it is uncommon for the bride and groom to provide attire for their bridesmaids and groomsmen, but it does still happen. If you were a middle-to-working class couple, it would be quite a burden for you to provide dresses and tuxedos/suits for 6-10 people to wear for a few hours, on top of all of the other wedding expenses. Chances are your friends are of similar minds and similar economic status, so they would not expect such a thing either. There is an unspoken contract when a person is asked to be a part of someone's wedding party; they know that whatever clothing they need to wear must come out of their pocket or closet. The only time it would be appropriate for a bride and groom to foot the bill for attire is if there is any type of restriction on what the wedding party wears. For example: if the groomsmen have to wear gray suits, they should understand that they'd better be hitting up that Memorial Day sale at Macy's, but if the groom insists they only wear Dolce & Gabbana, he either needs to reevaluate his priorities or hope he has roughly $10,000 in between his couch cushions. Let's just say, as long as you don't expect your bridesmaids to get their jewelry from Tiffany & Co., you should be fine.
On that note, there are a few things that the bride and groom are expected to provide. For the bride, if you are requiring hair and makeup to be done professionally, this is where you come in. This doesn't have to be a bummer though. Get some mimosas and bloody mary's together and make a morning out of it! You're only about to make one of the most important decisions of your life, so why not have some liquid courage beforehand. For the guys, a gift for your buddies is always good form. If your groomsmen are not sentimental, practical gifts like a tie or socks for the wedding day will not go unappreciated. These are just a few options when it comes to wedding party purchases.
Lodging and Transportation
This one can also be tricky. If you have friends that traveled a long distance to attend and/or be a part of your wedding, you may feel guilty and be tempted to offer up compensation, but this is typically not necessary. If they are willing to make the trip, chances are they do not expect you to put them up somewhere, and most likely they are happy to cover their own accommodations. There may be some scenarios where a good friend is unable to make the trip for financial reasons, which, depending on where they live, is a legitimate possibility. It is always best to be considerate in this situation. They would probably be just as upset that they could not make it, but once again, their travel requirements are not your concern. If you have the means and you want to provide hotel and/or airfare for a cash-strapped friend, go for it—I'm sure they would be eternally grateful—but do not feel like it is necessary.
Miscellaneous
One cost that truly varies from event to event is transportation.
***Side bar: if you have your wedding ceremony in Stony Point Hall's lovely ceremony area, transportation won't be an issue for you. Hint, hint.***
If you have hired transportation services for your wedding, such as renting a limousine, you should not be asking your wedding party members to chip in, especially if they did not have a say in the matter. I mean, you wouldn't ask your friend to go shopping with you and then ask them to drive, right? Come on people, that's Friendship 101!
This one is uncommon, but I'm sure at some point a bridesmaid has asked if she needs to pay for her bouquet. The answer is "no." This is merely another line item in the wedding budget. If you do find yourself in a quagmire over something like this, though, there are creative ways around asking your bridesmaids to pay for their own bouquet. Go purchase the flowers, get together and make the bouquets yourselves. That way you're not asking for money and you are all doing something together… you are friends after all.
I'm sure there are many more I did not cover and if you have any questions along these lines, feel free to ask us at:
Hopefully this has answered any unsolicited questions you may have had but didn't ask. From everyone at Stony Point Hall, have a great week, and we look forward to seeing you!