Photobooths are always a fan favorite at Stony Point. Guests love them, they bring lots of energy to your event, and everyone has a great memory to take home with them. Here are a few of our favorite DIY photobooth backdrops that can helpmake your photobooth one to remember!

The Frame – This is very important. Your backdrop needs to be sturdy. Your guests will be bumping and jostling it all evening so it needs to be stable. You can find detailed dimensions and plans here.

Tissue paper backdrop – This is one of my absolute favorite backdrops. Put your parade float building skills to the test. This backdrop uses chicken wire and tissue pomps (pre-cut tissue squares). Easy right? This one adds a huge pop of color to your decor. Here are the details, including a great how-to video.

Ribbon and Tissue Flowers – This backdrop combines two of my favorite combos. The tissue flowers or ribbons on their own are fabulous, but combined make a stunning statement. Mix lots of shades and neutrals to make a bigger impact. Check out the details here.

Personalized backdrop – This could easily be made from recycled pallets.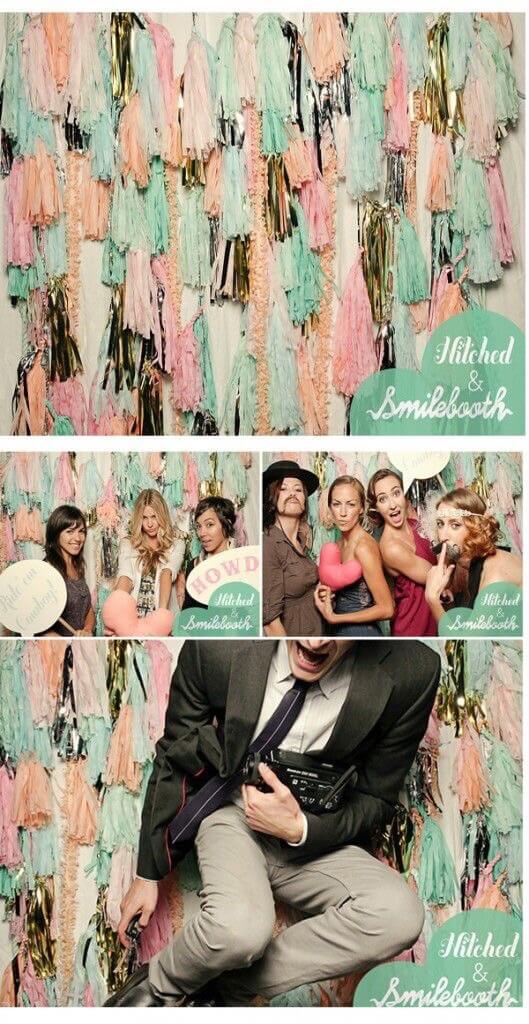 Fringe – I love the texture of this backdrop. So much color and fun! Use fishing line to attach the tassels and