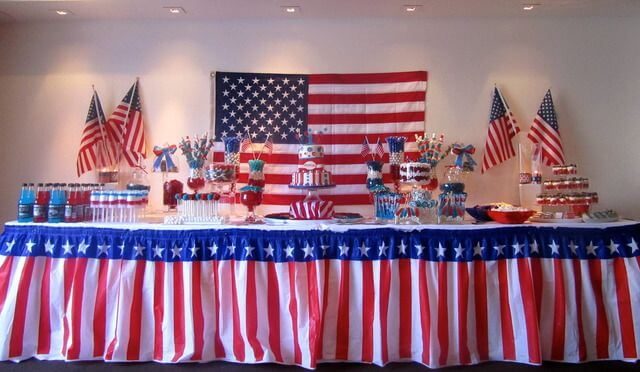 There's something extra special about festivities that happen around the Fourth of July. This season we're dreaming of an outdoor get-together that's simple to pull together at the last-minute. Stars and stripes? Obviously. Red, white, and blue palette? No doubt. Easy, stress-free, and kid-friendly? You betcha! 4th of July Party ideas and styling by One Charming Party.
Put Your Picnic on Wheels
It's a classic, no-fail concept: Gather your friends, neighbors, and family members (yes, that means the dogs, too!), and take it outside. This party plan works whether you're heading into town for the annual parade or hitting the front lawn for a low-key picnic in the grass. Once you've got the gang on board, prepare to take your party on the go. Load up a wagon and roll it to your destination.
Load Up on Party Props
In true Fourth of July spirit, fill a basket or bucket with red, white, and blue trimmings. Visit the 99-cent store or your local party store and load up on all sorts of inexpensive, what-would-you-need-this-for? items. We're talking about paper pinwheels, flag picks, and streamers. Hint: Don't overlook the decor meant for tables, walls, and ceilings, either. Chances are most of it will look just as good on your 8-year-old's two-wheeler as it does for convention uses.
Fire up the grill
If there is one thing beside fireworks that says 4th of July it is delicious food sizzling over and open flame. Get your family and friends to together and cook up the traditional burgers and dogs. make things more festive with a build your own hotdog bar using patriotic napkins and some red white and blue pinwheels on the table.
Fireworks!
Of course you cannot talk about the 4th without at least giving a shout out to fireworks. Snappers and sparklers for the little ones firecrackers and smoke balls for the ones a bit older. Of course we cannot forget about all the big kids out there get yourself some mortars (the canister ones typically go higher with a larger bloom) or some 500 gram cakes (the multi shot boxes) to put on a dazzling nighttime display.