Premier Catering of Kansas City
We recently had the pleasure of meeting up with Terry Ficke during the Free State Wedding Expo, owner of the Premier Catering company located in Kansas City.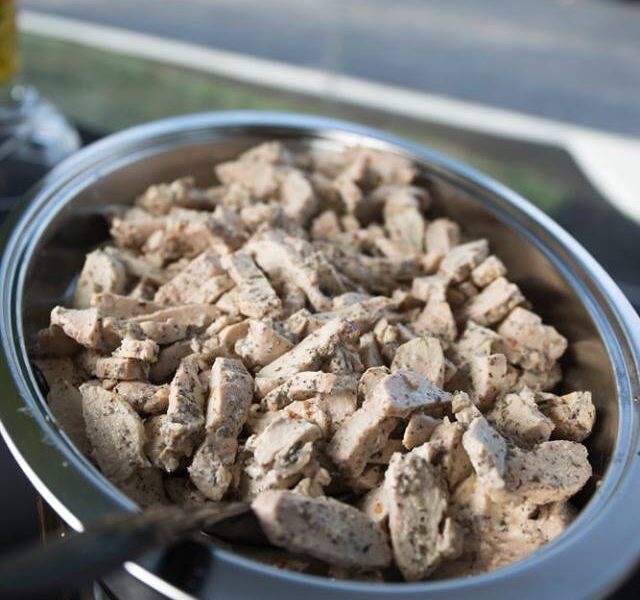 Free State Wedding Expo
The Free State Wedding Expo was held on January 20th, at Maceli's Banquet Hall in Lawrence, KS. During this time, Stony Point Hall had a booth for the show, which happened to be just across the aisle from Premiere Catering, tended to by the owner Terry. As many of the vendors often do, Terry made it a point to come chat with us as we have worked with him in the past, but also to invite us to try his delicious food.
Why We Recommend
Not only has Terry always maintained a friendly and professional demeanor, but the food is delicious and their open and complete transparency with pricing aligns with our own operating beliefs. Currently, they are partnered with the long standing Sutera's Pizza and Catering of Shawnee, KS and boast a menu consisting of everything from BBQ to Prime Top Sirloin.
Our Tasting
During the show we were able to sample two of their menu items: Roasted Garlic and Herb Chicken with Splash of Cream Sauce & Spinach Artichoke Dip w/Multicolored Chips. Of which, the chicken was seasoned perfectly, moist, and the cream sauce complemented the natural chicken flavor perfectly. The Artichoke Dip was clearly homemade and fresh as it lacked the grease that most Artichoke dips have when they come from a manufacturer, it was delightfully light and packed with flavor – a perfect appetizer. Overall we're excited to work with them in the future and to tasting more of their culinary creations.
Their Details
Phone Number: 913-963-7145
Email: terryficke@gmail.com
Website: www.premiercateringkc.com
You can also download their 2019 Brochure below.