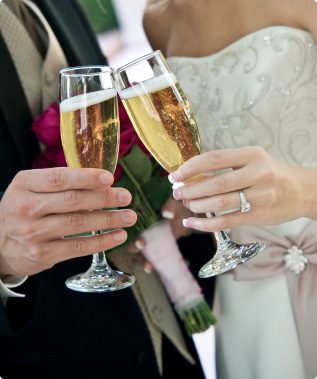 Choosing the bar selection for your wedding can be tricky. Hopefully we can help address some common questions and concerns regarding planning the bar for your wedding.
How much will each person drink?
The general rule of thumb is one drink per person per hour. Some will drink more, some will drink less, but this is the general guideline.
What should I buy?
A limited bar is red wine, white wine, and at least two different varieties of beer.
A full bar includes the items listed above plus vodka, rum, whisky/bourbon, gin and mixers.
How much will I need to buy?
This depends on your bar choice. For a full bar you can anticipate 50% wine, 30% beer and 20% mixed drinks. A limited bar can be expected to consume 60% wine and 40% beer. This obviously fluctuates based on your group preferences. Use these percentages as a starting point:
Serving sizes:

A bottle of wine is 5 servings

A keg is 165 12 oz. servings

A bottle/can is 1 serving of beer

A bottle of spirits is 18 servings (1.5 oz.) per 750 ml bottle
Using the above information:

100 guests for a 5 hour reception = 500 drinks

Limited bar – 500 x 0.4 = 200 beers

500 x 0.6 = 300 glasses of wine (60 bottles)

Full bar – 500 x 0.2 = 100 servings of spirits (5.5 750 ml bottles)500 x 0.3 = 150 beers

500 x 0.5 = 250 glasses of wine (50 bottles)
Purchasing your alcohol
I highly recommend you check with your liquor store to check their return policy (yes these exist!). Some stores will allow unopened bottles/cases to be returned. This means that you have options if there are leftovers at the end of the night.
Looking for some local options? Lawrence has some great wineries and microbreweries.
Free State Brewing Co. and 23rd Street Brewery are great local micro breweries that you can purchase kegs from. Local wineries include BlueJacket Crossing among many others.
If providing your own alcohol does not interest you, Bartenders on the Go is a great full service bar tending option.
For all specifics related directly to alcohol and Stony Point please see our alcohol contract for all of our policies and stipulations.