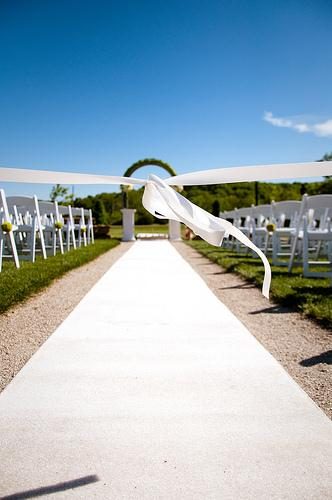 Planning an outdoor ceremony can be stressful to some brides. Thinking ahead can make sure that you are worry free on your wedding day. Here are some pointers to help make things run as smoothly as possible.

Know what time the sun sets on your wedding day.

This is incredibly valuable knowledge as it can potentially effect multiple aspects of your wedding. The ceremony area at Stony Point is in shade from the treeline at about two hours before sunset. It may be beneficial to plan your ceremony in this time frame. In the warmer months, this can help make your ceremony a little more comfortable for all involved. Sunset also offers spectacular lighting for photography. Even if you have an earlier ceremony, you may want to set aside a little time in the wedding schedule to make sure that you can take advantage of this. The Weather Channel has a great page to help you determine the specifics for your wedding day.

Make your guests comfortable.

A lot of brides may have concerns about making their guests comfortable at an outdoor ceremony. Nature is not something that can be controlled, but you can offer some amenities to help make things go as smoothly as possible. Always have water available, especially in the warmer months. For the extra sensitive ones in your group, bug spray and sunscreen are also good things to have on hand. Paper fans can help keep guests cool on a still day.


Make sure that any outdoor decor can potentially hold up against a heavy gust of wind. Choosing sturdy materials and making sure that things are tacked down well will give you piece of mind going into the big day.


Inclement weather is always a possibility (we do live in Kansas). More than likely you will have beautiful weather on your wedding day. However, if this is something that can cause you major anxiety in the weeks going into your wedding, you may want to have a contingency built into your indoor seating plan for an emergency. This is as simple leaving an aisle in the middle of the room and using the dance floor as a potential ceremony area if conditions are less than perfect day of the wedding. Having an aisle in the middle of the room offers easy mobility to your guests during your guests even if there is no need to move to ceremony indoors. Knowing that there is a plan B can help bring a little sense of calmness if the worst does happen.


Most brides choose an outdoor ceremony because it offers a unique and beautiful way to help your guests celebrate with you. Give sunglasses as wedding favors, throw out some yard games, have an outdoor cocktail hour. The possibilities are endless! Make some great memories and have a lot of fun while you are at it.