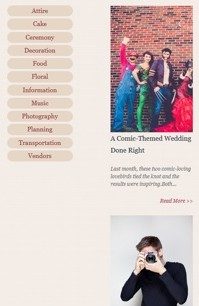 New Blog features at Stony Point Hall!
With the update of our website we have decided to redesign our blog. In the past all of our blog posts were just updated to a single page and all other blog posts were listed under it. This made it very hard for anyone to find a blog post of interest to them. With our new blog we've taken ideas from our users and a little inspiration from Pinterest. Blog posts are now separated into categories and these categories are listed to the left of every page. Once a category is clicked on all blogs relating to that category will be listed on the right in a grid style with a picture, title and short description. We hope our changes have made it easier to find the blogs you want to read about in an easier way.
How to use our new blog:
Simply click the category you are interested in and a list of blog topics under that category will be listed on the right. Find a topic and click either the image or the "Read More" link at the bottom. This will bring you to the blog post.
If you would like to read more blog posts under the same category you may click either the top right link to read an older post, or the top left link to read a more current post. To go back, simply click the category on the left again or click the back button on your browser.
We will be continuing to work on the new blog feature to improve your experience. If you have any ideas about the layout or a blog topic you would like to read more about we would love to hear from you! Just contact us by email or phone.