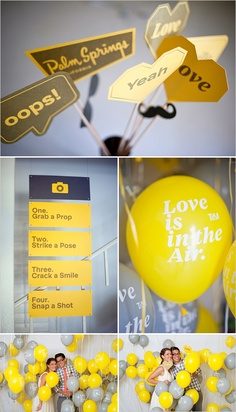 I like Pinterest.
And when I say like, I actually mean LOVE.
One of our regular posts will be some of the amazing DIY (and just plain cute) pins that I come across and inspire me.
Lets dive in!
DIY PHOTOBOOTH
I ADORE PHOTO BOOTHS!
But goodness are they expensive.
This adorable photo booth could easily be a DIY project. Bribe a friend with a nice camera and grab a backdrop with some balloons. BOOM. Instant photo booth. You could post them online and hand out cute cards instructing guests where they can get their copy.
http://www.weddingchicks.com/2012/02/27/palm-springs-wedding/
INSTAGRAM YOUR WEDDING
Instagram is amazing.
I love all of the easy and fast editing options that make my ordinary picture just a little more personal and fun.
This is great for multiple reasons.
I get lots of pictures that my photographer couldn't catch.

I get pictures from the perspective of the people that I love.

Lots of extra pictures at NO extra cost!
http://www.theweddingcafe.net/brideswannaknow/176-appleofyoureye
PERSONALIZED RUSTIC LETTERS
What a great way to personalize your wedding!
So simple but it's a HUGE impact.
Choose the letter of your last name or your first initials and an ampersand.
You could leave the rustic look or paint it with your wedding colors.
There are so many options!
http://tatertotsandjello.com/2013/07/quick-outdoor-marquee-letter.html