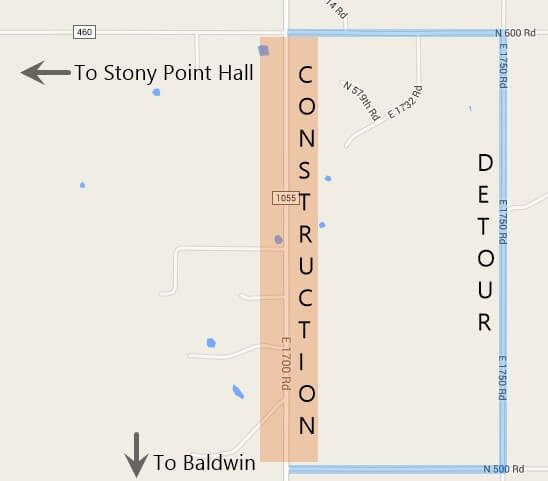 On Monday, September 14th through Monday September 28th alternative route #1 listed below will also be closed due to road construction. Please refer to route #2 or route #3 listed below.
To read more information about this closure please visit the Douglas County website listed here: http://www.douglascountyks.org/
The original post about road construction is below.
If you are coming from Baldwin City, please note there is construction on E 1700 Rd between Baldwin City and N 600th Rd. This is expected to continue until September or October depending on weather. Below are some alternate routes from Baldwin City to Stony Point Hall.
1. 1700 Rd.
Includes: 2 miles on a gravel road
Total Trip: 5.9 miles, 12 minutes
Head north on N 6th St toward Quayle St (1.5 mi)
Continue onto E 1700 Rd (0.5 mi)
Turn right onto N 500 Rd (0.5 mi)
Turn left at the 1st cross street onto E 1750 Rd (1 mi)
Turn left onto N 600 Rd – Stony Point Hall will be on your right.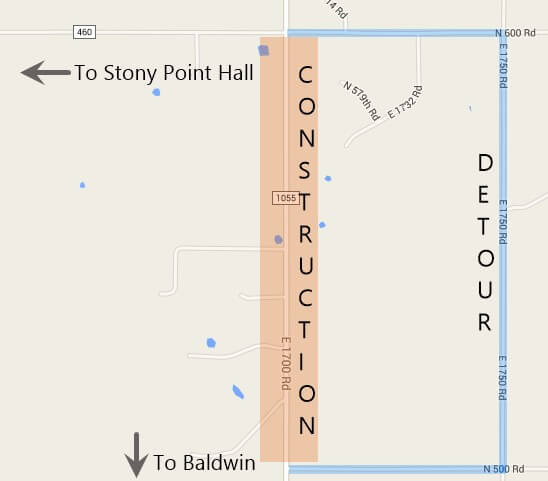 2. E 1699 rd
Includes: 3.1 miles on a gravel road
Total Trip: 5.0 miles, 11 minutes
Head east on N 600 Rd toward E 1550 Rd (
0.9 mi)
Turn right onto E 1600 Rd (
3.1 mi)
Turn left onto US-56 E/N 300 Rd (
1.0 mi)

3. 59 Highway
Includes: No gravel roads
Total Trip: 10.7 miles, 12 minutes
Head west on US-56 W/N 300 Rd/Ames St toward 7th St
(
4.4 mi)
Turn right to merge onto US-59 N (
3.4 mi)
Take the County Road 460 N exit (
0.2 mi)
Turn right onto N 650 Rd (2
.8 mi)
Destination will be on the left