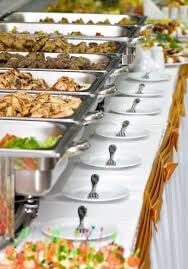 As a wedding venue, we understand that we are only one piece of your wedding vendor selection. Planning and coordinating all of these vendors can be a daunting task! Here are some commonly asked questions about catering that may help you in your planning process.
Stony Point Catering FAQ's
Do you have a catering service that we are required to use?
– No. Stony Point Hall does not have or use a catering service. You are free to choose whatever vendor that you would like. We have seen everything from plated, full service dinners to family potlucks. Choose what ever works for you and your budget.
What kitchen equipment is available for my caterer to use?
– Stony Point has what we call a "caterers kitchen". It includes a full walk in refrigerator for food and beverages, a 4 rack convection oven, a large warming oven , and large triple sinks for clean up. We often get asked if we have a stove top or range available, at this time we do not. There is a kitchen layout PDF available by going to our hall rental page then choosing files from the left hand menu. You will see the Catering Kitchen Layout available to be downloaded.
I would like to self cater my wedding, help!
– Stony Point Hall has many catering rentals to help you with this option. We have chafing dishes, serving utensils, and drink dispensers available for rent. Our most popular rental items are available to view on our website by going to the hall rental section and on the left hand menu choosing catering.
Will you be available for my caterer the day of my event if there are any questions?
– Absolutely. Just let us know what time they will be arriving and we will gladly meet with them and to give a rundown of our kitchen and to answer any questions that they may have.
I'm having trouble choosing a caterer
– We have a list of vendors that we feel offer a quality product and good service. This list is available by going to our guest resource page and on the left hand menu and choosing caterers. We are more than happy to answer questions about our experience with a vendor that you may be looking at.
What cleanup is expected of my caterer
– Your caterer will need to take any food and items they brought with them at the end of the night. We will sweep and mop, we do ask that caterers wipe off prep surfaces and take trash to the dumpster.
If there are any catering questions that we didn't cover, please feel free to call or email. We are always glad to help answer any questions that you may have.