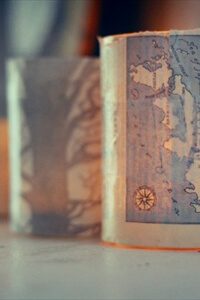 If you're looking for a chic way to decorate your wedding without hurting your budget – look no further than your average mason jar. From centerpieces to outdoor lighting, these handy jars can do it all.
Centerpieces
These interesting centerpieces are made simply by taking an old book or newspaper and lighting it inside of a mason jar. Measure the height and circumference of your mason jar then cut the newspaper to size. Next roll it into a circle and tack the connecting edges with a little bit of glue. Slide it into your mason jar and add a tea light to complete the look.

Did you know we rent mason jars? We have a large variety of small and large mason jars for rent, you can view them here.
Outdoor Lighting:
A simple but stunning way to light up the outdoors. You can add your choice of light such as: Christmas tree lights, candles with sand underneath, tea lights or fairy lights. We suggest fairy lights because they are bright, easy to use and flexible. You can even submerge them in water! Try adding water to a mason jar with a couple drops of food coloring – add a fairy light to really make it pop.

We rent fairy lights too! Check them out here.
Desserts
Mason Jars are great for design, but they can also be functional too. We recommend something that layers, such as Key Lime Pie. The layers adds a bit of unique visual flair on top of being delicious!


For more great ideas check out these posts on Pinterest and as always, be sure to follow us on Pinterest, Flickr and Facebook!