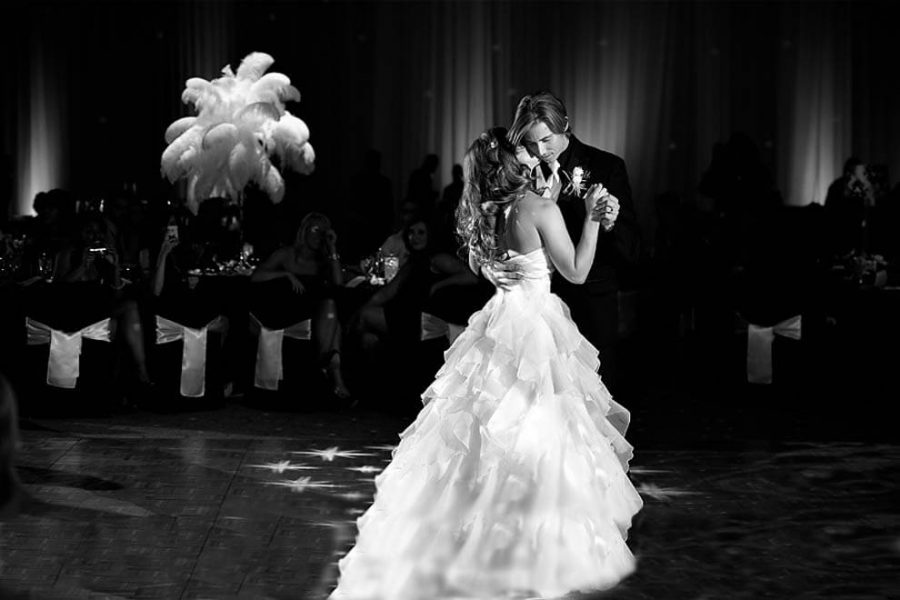 We have all heard the classics and hosting 50+ weddings a year you can bet we've probably heard them more than others. Whether you're going for a more unique first song (check out this blog post by womangettingmarried.com) to find one or a classic like "At Last" by Etta James – it is important to use a song that captures your love. But that's not all there is to it.
Song Length
Your family and friends are all thrilled for you and they want to share in your special moments. They will be teary eyed, touched, and wooed to watch you dance so lovingly and close with your partner… for about the first two to three minutes. After that they will be waiting for the end of the song. After all – how long would you like to watch other people dance? Regardless of your song length you should discuss with your DJ fading out the song at a certain point or inviting others to join in after a certain minute mark.
Practice Makes Perfect
Before the wedding it's a good idea to practice your dance with your future husband. This will help avoid little slip ups or the unintentional stepping on feet. If you or your partner are a decidedly bad dancer you may want to think about dance lessons. It can be a fun activity to enjoy with your partner that boosts confidence and servers a common goal.
Make it You
Not every couple is suited to do a slow mushy romantic song for their first dance. Remember, it is a celebration of your love. Every love is different and the song should reflect that. If you're a couple of goofy charmers you could even do the YMCA to show how much you truly enjoy one another.
After the Song
I've seen this done and it never gets old. While your song is fading out (or even in the back half of your song) invite the older married couples to join in. There's simply something special about couples who are 50+ and still going strong. Look deep into your partner's eyes and just think, "That will be us one day."