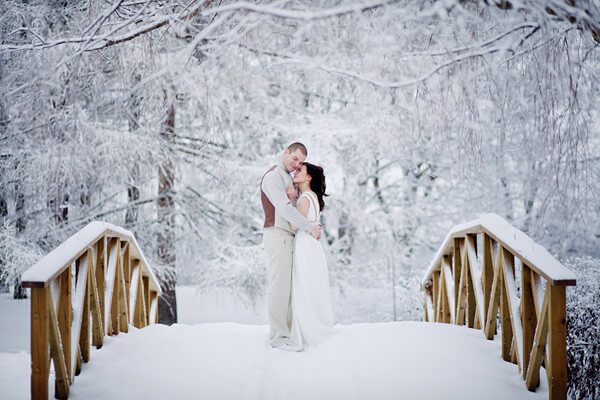 Wedding are typically thought of as spring and summer events, however more and more brides are turning to these "off season events". The snow covered landscape can make for very romantic photo opportunities, vendors and venues have very little competition for dates. there is a lot a winter wedding can offer if you give it a chance!
Dress your wedding party in style
Do not be afraid to go against the grain for how you chose your wedding party's dresses and tux. Just because it is cold does not mean you cannot go with a strapless dress. Things to consider with this though are yes it is going to be cold so a coat of some kind is going to be a must as you will be outside even if it is just dashing from the limo to the doors. Boots or shoes are not a must feel free to request heels but be reasonable, suggest they bring a pair of shoes or boots to get from place to place because lets face it heels and ice/snow do not mix well. In the end go with whatever style works for your wedding theme while keeping their warmth and comfort in mind.
Create a warm inviting reception space

With the holiday season around the corner you might feel obligated to go with greens, reds and whites. do not be afraid to play with colors yellows, blues and lime greens can help create a warm tropical feel for your quests to have a respite from the cold outside. The sun will be setting earlier than the rest of the year dim house lights and candles can help make it feel like a more intimate cozy setting during your reception. If you go with candles keep in mind the heat they will let off and account for it, all those bodies and candles in one room are sure to make things hot especially on the dance floor. Ask your venue to turn the heat down a hair if things get too sweaty.
No one likes to be stuck out in the cold
when planning for your wedding think of your guests, if you plan on doing an outdoor wedding talk with your officiant to see how they can make it a short and sweet ceremony allowing you all to enjoy the outdoors and grab some great picture but not having to be out there for 30-45 minutes..