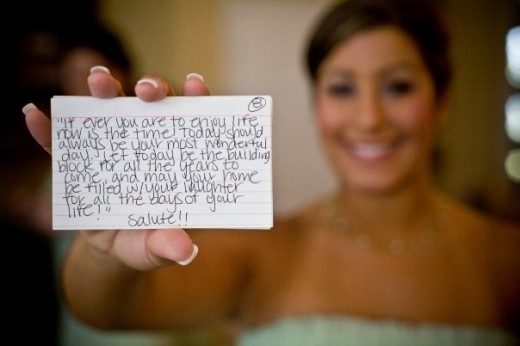 Typically at a wedding the best man's speech is considered the best toast of the night. It usually consists of poking fun at the groom, making lighthearted jokes, and sneaking in sentimental stories or notes about the couple. In contrast, the maid of honor speech is usually very sentimental and sweet, talks about her and the bride's relationship, how she knows the couple is made for one another and adds one or two jokes lightly sprinkled in.
We think it's time the maid of honor speech be just as memorable and fun as the best man's speech, without sacrificing the message. Here's a quick guide on how to accomplish this.
Beginning of the Speech
It's best to start your speech off by introducing yourself and your relationship with the bride. If you've known the bride for more than 3 years it's appropriate to mention how long you've known her and presents the perfect opportunity to sneak in a cute or funny story how you met. Sister's have a unique advantage here because there's always a way to sneak a funny story in. Example: "Hello everyone! My name is Staci and I am the sister of the lovely bride. I've known her all 29 years of my life, but I feel like I met her when I was six because the very first memory with my sister is putting t-shirts on our heads and pretending we were Genies." If you're not sisters and you don't have a funny or cute story on how you met you can briefly state how you met and insert a cute/funny story about the moment you knew she would be your best friend.
Segway to the Middle
From there you can branch off into a number of directions. Start by sharing the things you love most about the bride and if you're leaning towards a more sentimental speech you can insert how knowing her has changed you, but be careful not to speak too much about yourself. Keep any references to yourself simple and short, only use this time to showcase the bride's character. You can transition nicely here to how you met the groom and throw in a light joke about your first impression, but don't be insulting. Talk a little about him and share his character as you got to know him. Finish it out by talking about the two of them together and how you know they'll be happy. You can insert a joke here as well, "Mark has already agreed to give her chocolate once a month, because as we all know it's the secret to a happy marriage." Always avoid talking about exes or anything that cast the bride or groom in a negative light.
The Ending
This should be the most memorable part of your speech. Overall the entire speech should not be more than five minutes long so be sure to make room for your ending. For a sentimental ending you can hold up your glass as you wish the couple all the best and congratulate them on their love, finish it up with an inspirational quote and then take a drink. If you've lived with the bride you could make a gesture and open up the way for some lighthearted jokes. For example, you could bring a bag full of necessities the groom will need to live with the bride. You can pull items from the bag and tell a story about each one: a candy bar because of her sweet tooth, a DVD of Grease since he'll have to get used to watching it, a picture of a cute animal since it's the only thing guaranteed to get her to smile ect. End your speech by passing the bag off to the groom and say "I'm counting on you to take care of her now!" To add some class thank the bride and the groom for sharing this moment with you and thank the host for the celebration. No matter how you end it be sure to raise your glass and when you're done take a drink for a definitive end.