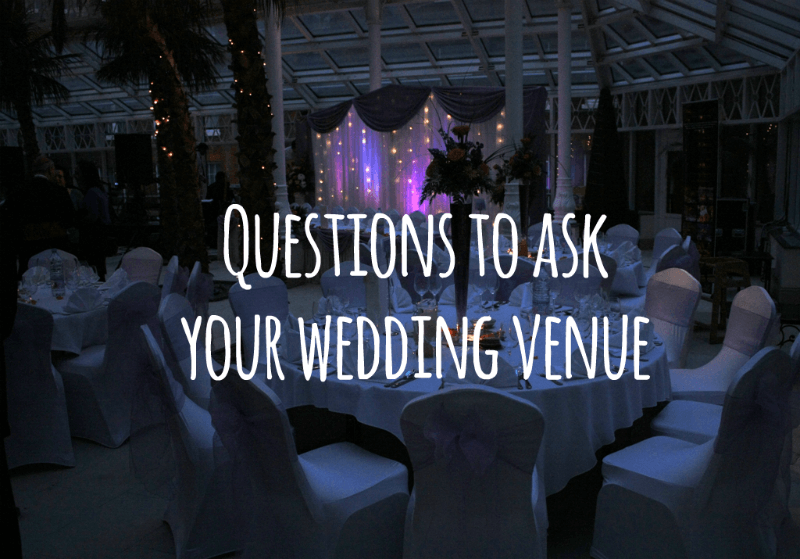 After many years in the industry we've fielded many questions and generally know what's important for our brides to know. No matter which wedding venue you're considering there are a number of venue questions you should ask, some are obvious, but others not so much. We've found a pretty inclusive list of venue questions you should ask at brides.com and have included our answers to the questions below.
The Wedding Date:
•Is mine available?
The availability of your date depends on a number of factors. If you are looking for a specific date the availability will depend highly on two factors: Whether the date falls on a weekday or a weekend and how far away the date is. Your date is less likely to be available if it falls on a weekend or if you are calling last minute.
•How many weddings will be booked that day?
We personally like to devote the entire day to one wedding. No matter which day you choose you will always be the only wedding we do that day.
Payment:
•What are the rates for different days or times (Friday, Saturday, Sunday; afternoon, evening)?
The current rental fee can be found on our hall rental page. We do give discounts for off-season and weekdays.
•Is there a payment schedule?
We request a deposit of half the rental fee to formally reserve the hall. The balance of the hall rental are due 30 days prior to your event. Rental items and ice can be paid unto the day of your event.
•What kind of deposits are required?
Deposit for the hall is half of the rental fee.
•Are there hidden costs like a service charge, gratuity, cleaning fees, or overtime charges?
We have absolutely no hidden costs. Ceremony Setup/Tear Down, Room Setup/Tear Down, and all tables and chairs are included in the rental fee. You can optionally rent our rental items, equipment or choose to include a full cleanup.
•What's the cancellation policy?
Cancellation results in forfeiture of the deposit.
•What's the last possible date that we can make changes?
You can make changes up to the day of your wedding within reason. You cannot change your linen order after two weeks prior to your wedding date. If you need to make changes or expect to make changes please speak with us.
Logistics:
•Must I use vendors of your choosing?
Not at all. We do have a list of preferred vendors that we would enjoy having back, but your vendors are completely your choice.
•Is there room for a band and/or dancing?
Yes, we have a DJ Booth and a large dance floor. You can optionally rent our dance lights and room-filling audio.
•Does the venue own sound equipment and speakers, or will that need to be rented?
We own a complete indoor sound system as well as an outdoor sound system that you can choose to rent from us.
•Are there any noise restrictions?
The music for your event must be off at midnight.
•Are there adequate bathroom facilities? Is there a coat check?
Two restrooms are provided (men and women), with ten total toilets, including handicapped facilities. We do not offer a coat check.
•Is the site handicap accessible?
Yes, we provide two handicap parking spaces right next to the hall entrance as well as a ramp. Both restrooms feature handicap stalls and sinks.
•Is there ample parking? Will guests be charged for parking?
We have 47 parking spaces adjoining the hall, with an additional 40+ parking spaces nearby. There is no fee for parking.
•Is there a backup plan for rain or inclement weather?
We include an emergency arbor that can be setup inside the hall for bad weather.
•Are there any decoration limitations? Can we use candles?
Most all decorations are welcome, please ask us before hanging heavy objects or using tape/glue on the floors. You may use candles as long as the flame is not open and it is in the center of the table.
•Are there restrictions for the photographer in terms of flash usage?
No.
•When can my vendors arrive for setup?
The hall is available to you and your vendors at 8am on the day of your event. If the day before your event has not been booked we do allow you to come out the day before for rehearsal dinner and decorating. We cannot guarantee you this extra day, however some arrangements may be made for storage of items.
•What time will my guests have to leave the venue?
The music for an event must end by midnight, a cleanup/breakdown crew may stay till 1am.
•Who is responsible for setting up and tearing down the decor, and when will it be completed?
You are responsible for setting up and tearing down any decorations you bring. We request you do so by the end of the night. If we do not have an event the following day some items may be left if absolutely needed.
Food & Drinks:
•Is there an in-house caterer?
No.
•Do we have to use that caterer? If not, is there a limitation on which outside caterers we can use?
There is no limitation on which caterer you choose, DIYers are even welcome.
•Do you have a liquor license?
No, we do not have a liquor license. There are two ways you can provide liquor for your guests. One is to hire a caterer or liquor provider with the proper license to sell and serve alcohol. Or, you can provide it yourself under certain guidelines. We have a supplemental contract that covers these guidelines. In either case, Stony Point Hall holds itself not responsible for the proper service of liquor.
•What is your pricing for alcohol?
Not applicable.
•Will you allow us to bring our own liquor?
Yes.
•If so, is there a corkage fee?
Not applicable.
•Are there any consequences for not fulfilling the food and beverage minimum?
Not applicable.
Staff:
•Who will be our point person be before the wedding?
Lucretia Carlson is the owner of Stony Point Hall and is your main contact up until the night of your event. Our night manager is her son, Kyle Carlson.
•Who will be our point person on the day of our wedding?
Lucretia Carlson.
•Can we meet them now?
If you would like to meet your manager prior to your event arrangements may be made.
If your venue questions are not answered here please check our FAQs page or feel free to contact us by phone or email.