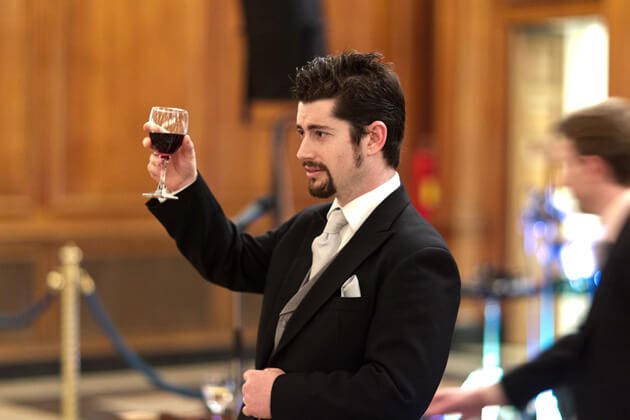 At some point in your life, one of your friends, brother or close relative will most likely ask you to be the best man in their wedding. One of the duties of a best man is to give a "best man speech" where you say a few kind words about the groom and his new wife. The mixture of booze and often lack of preparation results in the best man rambling and sharing inappropriate and embarrassing stories about the groom in front of hundreds of family and friends.
if you don't want to be a stumbling mess, and you want to truly be the best man we have a few tip for you to keep in mind as you prepare your best man speech.
1. Prepare. Do not just walk in day of with a "i'll just wing it" mentality this will more often than not end up blowing up in your face. chances are you will have a few weeks before the wedding to brainstorm, write down thoughts, jokes, memories, and a few quotes. If you do not know much about how the groom and his new wife met ask them for details. when thinking of stories you are going to want to pick ones that show him in a positive light and make him look like a great guy. He has already sold himself to his new bride it is your turn to sell him to the hundreds of people there that might not know him.
2. Don't get drunk. this does not mean that you cannot drink at the reception but try to keep it to a minimal before you give the speech. I dont think i need to go into much detail here on why you will want a level head in this situation.
3.Open with thanks. open your speach by giving thanks to the people who made the day possible. single out the bride and grooms parents by name. You may Perhaps even offer up a quick toast to them for bringing up such fine children.
4. Tell a story. You don't want this to be just any story, tell one about when you realized that he has found his match. You may also go with something about how the two of them balance each other out personality wise. Tell a funny story about how he did something that she was able to smooth over in some way (make sure not to embarrass anyone) leading to how they make a great team. Do NOT tell any story that you don't think should be heard by hundreds of people. Remember your job is to paint him in a good light (leave out the "so we went to Vegas for the weekend" stories)
5. Keep it short. The best way to lose interest of the crowd is to go on and on. Keep in mind that these people have, or will, listened to the maid of honor, the parents and perhaps several others. Keep it short and sweet shoot for not longer than 3-5 minutes.
6. Be yourself. This is something that should come naturally to you. There is no need to get formal or try to be someone you are not let it flow naturally. Make it personal and sincere and speak from the heart and everything should go well.